As most photographers will tell you, photographing gigs is not always the easiest thing to do… You are at the mercy of the lights, the venue limitations, your equipment capabilities and your relationship with the artists involved…! So this week saw me at the Wisewood Inn, in Sheffield, a most intimate venue, official capacity 30 people, for a pre-Christmas gig with pianist Lewis Nitikman and singer Lindsay Dracass.
As you might have noticed I follow a fair few gigs with Lewis (when normally teamed up with John Reilly) but this is also the second time I've seen Lindsay and Lewis perform together. Lewis is a great pianist and can turn his hand to all manner of musical genres. Lindsay has a powerful strong singing voice perfectly suited to ballads.
The two combined on the evening to give a super performance with some great rapport and banter and with a few Christmas songs in the mix made for a very pleasant and enjoyable evening for all that were there. There was even an additional bonus with Rachel Raynor being invited to the front for a couple of songs delightfully delivered. The venue is interesting – the Cellar Bar at the Wisewood Inn – and with an additional audience of stuffed animal heads on the wall (see it in the picture above!), makes for an interesting atmosphere and ambience!
Photography wise, a high ISO performance was needed, but I think the camera (and I) coped pretty well to get some of these shots out.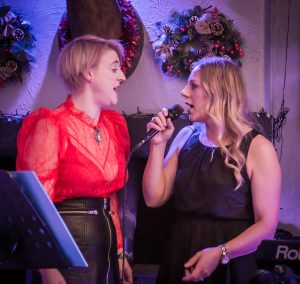 This was another gig organised by Lynne Robertson, who is building a very nice reputation for organising great music around Sheffield. See more on her Lynne's Live Lounge link below. And also a big thank you to the Wisewood Inn… lovely food too!
Andy 🙂
Some useful links:-
John Reilly Lewis Nitikman gig site
Upcoming events at the Wisewood Inn Cellar Bar
And a few more images from the evening!