A long time wish list item was fulfilled over Christmas, when I featured in a broadcast on TV as an extra in a drama… This was on the Victoria Season 2 Christmas Special, the added bonus of being screened on Christmas Day too! The filming was done in August but the story goes back to Feb or Mar when I first investigated and pursued what it takes to be an extra on a drama like that… I did some internet research on Victoria after watching Season 1 and seeing that it was partly filmed at Wentworth Woodhouse (very local to where I live and work). Having worked out some of the agencies that supplied the production company with Extras, I picked one to sign up for. The pictures registered, the joining fee paid, I awaited the call… The notices of work as an extra usually come very last minute and in coded form, firstly checking your availability for a date and time before giving more more details. And even if you are available, doesn't mean you will be required. I had a fair few false starts, some of which could have been for Victoria, but I didn't get past the availability stage.
And then… in May 2017, I filled in an availability for a shooting near Leeds, and got to the next stage… Please turn up for 7am the next day for filming at Bramham Hall near Wetherby. Excited and somewhat nervous I turned up and spent the first hour conversing in the open air with other extras and a few crew there to do during that day several scenes for Victoria. The 3rd assistant director rounded up the extras and ensured we passed through hair/make up checks, and I got told I was to be a background person in a German Tavern. Dressed and styled (a little, the beard helped me get the part), I duly waited the call… Due to shoot around 11.30am, I thought it might be soon! Alas these things often don't go to schedule, and time passed. If you are not happy hanging around, this is not a role for you! Lunch came and fed off the chuck wagon, and cast and crew go before extras (or as we are sometimes called Supporting Artists). A blue plastic poncho bib thing ensured we ate without damage to the clothes – and a fine meal it was too…!
Time continued to pass and we were collected ready for shooting about 2pm. The assistant director sorted us out and described the roles… I was to be a drunk German who gets in the way of Prince Albert (Tom Hughes) on his way to meet his brother to have a drunken discussion. Lots of takes done and lots of different camera angles and a brief discussion with the main director and Tom H himself, saw the scene done… This was to be shown in Episode 4 – more about that later…
Anyway… that day was done and I went back in to wait mode for any more jobs. Did sign with another agency too, and waited some more… In August the call came again! Victoria – this time at Church Fenton near Selby. This is where they built the set for Buckingham Palace featured in most episodes. This was set to be 2 days of filming plus an hour or two wardrobe fitting. I duly went for the costume fitting on one day, and got kitted out with some pics taken by the guys there. And then turned up for filming on the next day. Turned up, and similar to before, kitted out and ready to go and waited…. and waited… And then at 5ish later that day, were told that due to overruns on other scenes and other problems, I wouldn't be required that day. So went home a little disappointed but only after taking a few pics whilst all the extras were in their full regalia! The extras are a great and mixed crowd… all sorts of people, some young and doing summer extra work, some retired, some housewives, and some who are actors/entertainers. All great people with a story to tell!
Was called to go back 2 days later to catch back up on filming and this was a good day…! Shot two scenes that day… the first at the Opera. I was called an Hanoverian Heavy, aka a German Lord, one of the King of Hanover's (Peter Firth) crew… Stood up behind him in his opera box, occasionally looking at a program as he watched the opera, as he talked to his coutesan, and as he glanced towards Victoria.
The second filming was in the Buckingham Palace Throne Room, as Victoria (Jenna Coleman) was challenged by her Uncle (Peter Firth) in the company of Diana Rigg. Wow… what a setting! What a cast! I was in the background as they had their conversation re the necklace. In between takes, some small talk with Peter F and Diana R was most exciting! Some of the rules of being an extra are quite strict, don't fawn over the stars, don't take mobiles on set etc and it does make it difficult to show exactly how it was and could be, but I loved being involved and it was well worth the wait to be in one something like that, so thoroughly enjoyed the whole experience!
The next waiting was in some ways the hardest… waiting for it to be on TV…! I was all set for Episode 4 in the tavern, and quite excited for what might be shown, and then disappointed. As my scene was cut. I was disappointed but not overly surprised as this is film and TV land, happens all the time (and why I didn't go overly public on being in the show)!. So then it was Christmas… a magical time and a magical experience!  Watching live on ITV and there I was… well, first my hands and lower body made a brief appearance at the Opera scene… and then 10 mins later, the Throne Room scene… and there I was – in the background, but there on my TV! Super… so pleased and a little proud too…!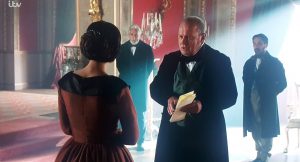 Will it lead to any more? I don't know but hope so… Will it make me money before you ask? Well no… the day rate is about £85 for 10 hours, so not an earner, but that wasn't the reason to do it for me… And still haven't filmed at the local Wentworth Woodhouse, maybe I'll get an opportunity in Season 3?
See Victoria Christmas Special – Comfort and Joy, on ITV Hub (for a while) and it is already out on DVD!
The agency I registered with for Victoria is Uni-versal Extras
(Other agencies also supply this production)
Screen print from Victoria taken with all due respect to copyright owned by Mammoth Productions and ITV.
Andy !