As some will be aware, I support many of the events of the Rotherham branch of Age UK, taking photos and trying to help them raise a few funds. I was delighted to attend and cover the Pawson Group sponsored Rotherham 10K and Fun event Age UK organised this weekend in Clifton Park. The weather shone brightly and the people turned out in droves to both run and support this event. The Fun Run attracted around 200 people of all ages and abilities and proved to be exactly what it was – a fun run. It was one mile around this lovely park (that was recently awarded one of the top 10 parks in the country – see here
The 10K race brought over 700 runners to this event and proved to be a very fast race despite the sweltering conditions. William Buswell won the race with a very good time of 33 mins and 12 seconds, but as with the fun run, it was great to see people of all ages, some very advanced, pounding their way around that course. All of my pictures are based around the start and finish and trying to capture the atmosphere and events going on there.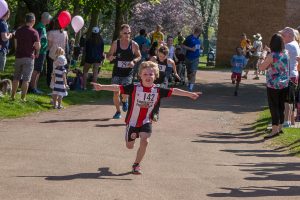 There will be many other pictures on Facebook etc by local people as I did hear the event was well supported through the park and in the streets around Rotherham too. If you have any pictures of the running through the roads of Rotherham, please send them to Age UK Rotherham or message their Facebook page, or tag their event page.
I do have lots of the pictures of the runners finishing – certainly many of the first 60 ish from the Fun Run, and many of the first few hundred from the 10K. I will be adding a gallery for them in the next day or two, and working with Age UK Rotherham to provide downloads or prints for a small donation  – Update see the post on the studio website here. Well done to all for a great event including Ray Matthews who put the race together!
Anyway – these are some of the pictures from the day – a most enjoyable day and an inspiration to see people of all ages running and supporting this worthy cause!
Andy – May 2018
Reminder on some links:-
Pawson Group (sponsors of the event) – https://www.pawsongroup.com/
Age UK Rotherham – https://www.ageuk.org.uk/rotherham/
Age UK Rotherham Facebook Page – https://www.facebook.com/Age-UK-Rotherham-275191639184129/
Clifton Park in top 10 parks – https://www.rotherham.gov.uk/news/article/1330/clifton_park_is_in_nation_s_top_ten_%E2%80%93_again
Pawson Rotherham 10K Results Page – http://www.rotherham10k.co.uk/PawsonRotherham10kResults%202018.pdf
Andy Harris / JFYP Studio website – http://www.jfyp.co.uk/
See lots more pictures from the day below! (these are in reverse time order!) – 130+ photos on 7 pages