This was the first in what I hope are many such gigs which are in the style of Nashville's famous Bluebird Cafe's Songwriter Circle events. The format is simply this, a set of talented singer songwriters (4 in this case) are on stage together and take turns in singing one of their own compositions accompanied by some stories of the song or other anecdotes. The others on stage support, add cheeky comments at time, and sometimes will accompany or sing along with a song! It all makes for a great relaxed listening event and gives the audience a great variety show. Unlike Nashville's version that is predominantly country, this was a mixed but complimentary blend of music from ballads to soul, and some rock, albeit acoustic versioning. The songs were absolutely live, no assisted backing tracks so quite raw and very moving. Enjoyed immensely my first taste and will be on the lookout for more like this. Well done Julia and Julian, and Lynne Robertson, another Pandoras box you've opened…
Let's introduce the singer/songwriters –
Julian Jones – been rocking us for many years with his self described non-hits, superb on the guitar and keyboard, and a comedian too!
Julia Waldron – a fine singer/ballad songwriter traditionally know for writing sad songs but also some very funny ones too
Steve Edwards – first time I've seen him play, a very soulful style and great lyricist and a Grammy nominee too…!
Lee Bardsley – from the other side of the Pennines, again new to me, great vocals and great lyricist too (and also super 'hand' harmonica player)


This was a new format also to all the musicians although Julian had seen this done in the real Nashiville, but all 4 settled in quickly giving some great stories followed by great songs including "Tightrope" by Julian Jones, "Flying Solo" from Julia Waldron, "Promise of the Sun" by Steve Edwards and "Moorings" from Lee Bardlsey as their openers.
The format was well received by the large almost sell out audience and there was respectful quiet during the songs which was a delight to see.
Other great songs followed as the singers took their turns with accompaniment being provided at times by Julian Jones (planned) and some improvised singing accompaniment too fro the choruses etc. And Lee providing harmonica using just his hands and mouth(!). Super relaxed style and great sounds.
Other songs featured included Steve's "Battle" and the number 1 song in many countries "World, Hold On", Lee's "Puffin", Julia's "Broken Man's Shoes" and Julian's full on "Vengeance" and "I Like You". All were done professionally and with style, all vocals were clear and crisp, and they complimented each other well like a good mix tape would.
Really enjoyed this, love the format, love the relaxed nature and the setting was good too. The Courtyard Cafe had atmosphere, plenty of room and pretty good acoustics, the sound wasn't loud, but could be heard all round the space. The bar was good value and I'm told the food was good too! The lights on the singers were a little disappointing (for photography) and you may have seen on Facebook made the Lynne Robertson videos very dark, hence most of my photos again black and white. But this not distract from a great night of music. Well done again Lynne for setting it up with Julian and Julia, and for everyone who supported another great Sheffield live music event.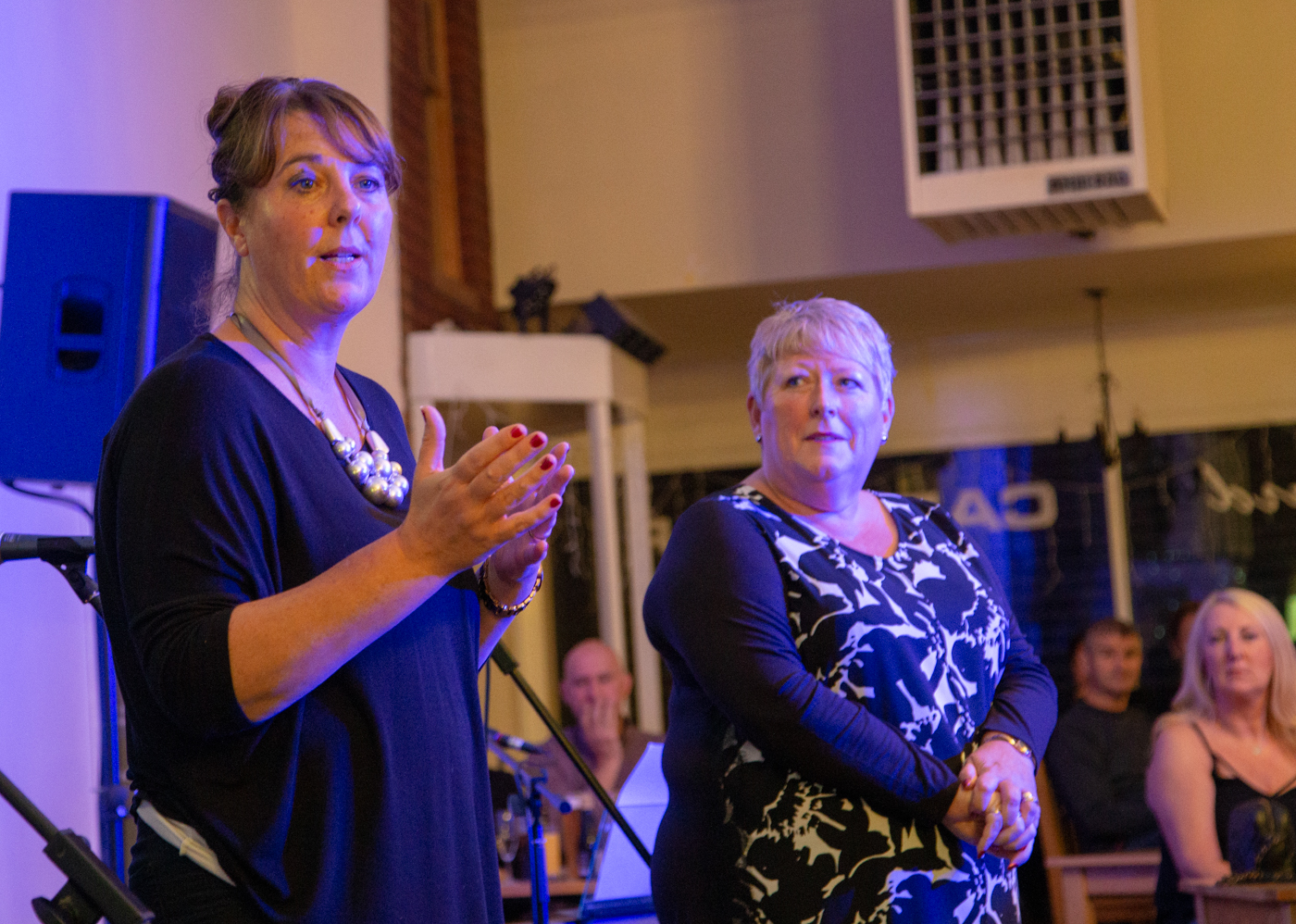 Should also mention that the charity Accessible Derbyshire were the featured charity and with a well supported raffle made over £100. Accessible Derbyshire does what it says, it wants to make access open to all, and not just in Derbyshire but all over the UK.
Some useful Links:-
Julian Jones website – http://www.julian-jones.co.uk/
Julia Waldron website – http://juliawaldron.com/
Steve Edwards Wikipedia – https://en.wikipedia.org/wiki/Steve_Edwards_(singer)
Lee Bardsley website – http://leebardsley.com/

Lynne Robertson's Live Lounge – https://www.facebook.com/groups/272238806595819/
Courtyard Cafe Bar – https://www.facebook.com/courtyard.cafebar/?ref=br_rs

Bluebird Cafe Nashville – http://bluebirdcafe.com/

Accessible Derbyshire – http://www.accessiblederbyshire.org/

Andy Harris (me!)/ JFYP Studio – http://www.jfyp.co.uk/
See more of my blogs (including previous ones of Julian Jones and Julia Waldron – http://andyharris.uk/
ALL the Good Photos from the evening