2 full days spent at the NEC for this year's Photography Show, and thoroughly enjoyed it all…! I attended the Pro Conference for the first time (two mornings) and was treated to some great talks from inspirational photographers and even an accountant, and the Sunday Times Magazine picture editor… They all combined to describe how to make yourself a better presented, organised, managed and tax reducing photographer… all good news to the ears! Sometimes you can get waylaid down on things like accounts and making the job at least pay for itself and it was good to see people who are successful at this craft. And they are happy to share their wisdom and experience with us too. Thank you to them! See some of the links at the bottom for the speakers/companies involved, especially if you, reading this, are photographers!
Some highlights… Day 1 – Emma Taylor kicked it off with a rousing talk about taking control and trying to define your style. This was followed with a talk on presenting yourself on websites and portfolios… has made me think again on my quite busy website, and will adopt some tips given on the day by Allie Astell (websites) and Marc Schlossman (printed portfolios). Then a very lively talk and quite inspiring one for me by portrait photographer Mark Wilkinson talking about the end to end process and the problems of setting the 'right' price for what photographers do… Didn't have the answer (as no-one does) but gave some great pointers to help/think about! Then a useful end of the morning by accountant Eric Longley who told us a few tips on how to keep the money we do make!
Day 2 started with Amy Shore discussing how to get to the front of the very busy field photography is. She is a car and lifestyle photographer and developed quite a niche for herself, but getting there was a journey of disappointment and ultimately delight! Then Tom Barnes gave a very enthusiastic and at times lightning speed talk through the subject of remaining creative and inspired, and was an inspiration as he understood the lows and the highs of this art. He is a very successful commercial photographer. Then we were lucky enough to have a interview style Q&A with the Sunday Times Magazine picture editor, explaining what he wanted to see from photographers and how they should present their work to him. Very interesting, especially with the range of images the magazine covers, they are looking for photo journalistic / documentary photos that tell a story. And the second morning finished with award winning photographer Emma Blau describing how important personal projects are in getting a photographer more exposure and other work through them. Again a great inspiring talk. My only concern with the talks is the fact that (of course) only the successful – a diminishing subset of the increasing number of photographers out there – are there to give the talks. In saying that, they've all listed times of trouble and their ways or determination to succeed in their field. They also say the old addage, you only learn by making mistakes! I would guess most of us have learned a lot! But it's how you deal with the failures that gets you that one step forward and not two steps back… Anyway….
As well as all the talks aimed at professional photographers, there was the show itself which ran for 4 days – 17-20 March. This was a huge trade show with hundreds of stands with all sorts of stuff from the expected camera stalls to the more bizarre cat's protection league, from photo holidays to photo printers (some absolutely huge!), lots of peripheral / add on items, a plethera of photo and album stalls, and a lot of talks available on the many big stands and 'stages' around. I dipped in and out of a few but I was pretty well talked out by the two full morning sessions. There were some great people there though – from all manner of photography genres and also digital artists, something for everyone. I thought I was there a while being two days, but very interesting stuff going on all 4 days, no day is the same with the talks given.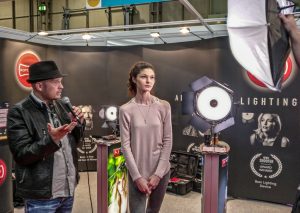 Did I buy much, well… It was certainly tempting, some fab equipment on display and to get your hands on. Drones have come on a long way and the demos looked great. Tripods,bags, light peripherals etc all caught my eye… One demo I did catch was at the Rotolight stand  (picture above) where Jason Lanier was demonstrating the latest LED Rotolights, and was I particularly interested in the smaller Neo 2 light which can be a continuous light, a flash and High Speed Sync Flash too… Very nice, in fact I bought one!  I had a good wander, talked to quite a few people, met a few faces from back home and a few more contacts made too. All in all a good couple of days. I wasn't intending to spend a lot, but did succumb a bit (but then, when in Rome!).  I would recommend this show, anyone interested in photography will find something to look at, buy, or be inspired by. There were also many hundreds of photos hung around the arena (especially the peoples gallery at the welcome area), some great images to look at too! Am already looking forward to next year's show…
A couple of notes :-
1) All pics taken on camera phone, so apols for poor quality of some (it was just a note taking device really!).
2) If you want any more detail or ask about any of the people/talks just comment below or message me on andy@jfyp.co.uk
Some Useful links:-
The Photography Show – https://www.photographyshow.com/
Some of the speakers (their sites have some great images!):-
Paul Wilkinson @paulwilkinsonphotography (Instagram) https://www.paulwilkinsonphotography.co.uk/
Amy Shore https://amyshorephotography.com/category/automotive/
Emma Blau http://www.emmablau.com/
Tom Barnes https://tombarnes.co/
Allie Astell (founder of Manage My Website) – an interesting link https://www.theguardian.com/small-business-network/2017/mar/04/letter-to-my-younger-self-allie-astell-manage-your-website
And a few links for the Rotolight…
Jason Lanier http://www.jasonlanier.com/
Rotolight (the LED lights) https://www.rotolight.com/
My new Studio Page (in beta) http://justforyouphotography.co.uk/
My current studio page http://www.jfyp.co.uk/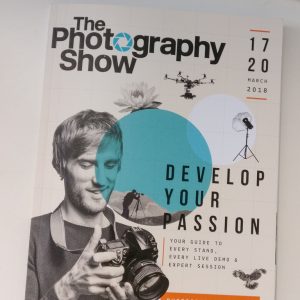 Thanks, Andy !