I was commissioned to take some shots of the cast of Arcadia in rehearsal for their upcoming performances in late November 2018. Just backtracking a bit, Arcadia is a play written by Tom Stoppard in the early 90s and is a rather complicated play – it concerns the relationship between past and present, order and disorder, certainty and uncertainty. It has been praised by many critics as the finest play from one of the most significant contemporary playwrights in the English language. In 2006, the Royal Institution of Great Britain named it one of the best science-related works ever written.

Arcadia is set in Sidley Park, an English country house in Derbyshire, and takes place in both 1809/1812 and the present day (1993 in the original production). The activities of two modern scholars and the house's current residents are juxtaposed with those of the people who lived there in the earlier period.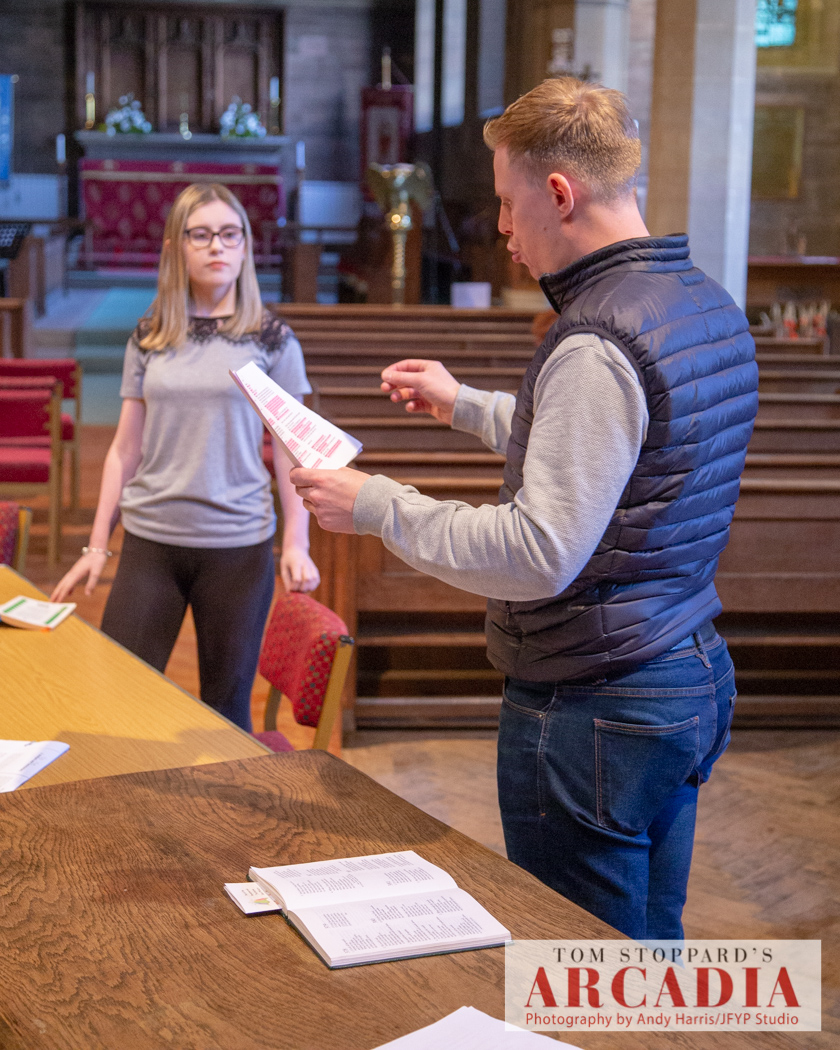 In 1809, Thomasina Coverly, the daughter of the house, is a precocious teenager with ideas about mathematics, nature and physics well ahead of her time. She studies with her tutor Septimus Hodge, a friend of Lord Byron (an unseen guest in the house). In the present, writer Hannah Jarvis and literature professor Bernard Nightingale converge on the house: she is investigating a hermit who once lived on the grounds; he is researching a mysterious chapter in the life of Byron. As their studies unfold – with the help of Valentine Coverly, a post-graduate student in mathematical biology – the truth about what happened in Thomasina's time is gradually revealed.
The play's set features a large table, used by the characters in both past and present. Props are not removed when the play switches time period; books, coffee mugs, quill pens, portfolios, and laptop computers appear together, blurring past and present. An ancient but still living tortoise also appears in every scene, symbolising long-suffering endurance and the continuity of existence.
This version is directed by Jonathan Walker-Kane, a locally based director/producer of many shows (you might recall I blogged about the show The Man of La Mancha which he directed and produced at Leeds City Varieties theatre last year). Jonathan earns his main crust as a Family Law Barrister allowing him to do these shows, sometimes (often perhaps!) at his own cost – he does them for the love of the works as well as for wanting to share the entertainment of such great works. This one is as a serious comedy about science, sex and landscape gardening!
The venue for this upcoming show is the church of St Saviours in Thurlstone near Penistone, near to where Jonathan lives when he's in the area.
Jonathan Walker-Kane certainly attracts a very talented and loyal set of actors and crew when he does his performances, and some of the ones featuring in Arcadia will have been seen at other performances such as the recent Evita and Talking Heads productions. I was certainly impressed with the efforts the actors put into their rehearsal activities. If the show is anything like this, you will certainly be captivated by the individual performances, and meticulous direction.
I was lucky enough to see some of these actors at last years' performances of The Browning Version and Southdowns, two excellent shows also at the same church. The church itself is a lovely setting for plays with it's high ceilings, windows and excellent acoustics. And the lighting – usually does by Simon Lord – is also excellent too. Jonathan goes to great lengths to put on a great authentic show. I look forward to seeing the show which will be running from 21st to the 24th November. For more detail and booking information see here on the Endellion Theatre Facebook page.
Some useful Links

Endellion Theatre Facebook Page (and ticket details) – https://www.facebook.com/EndellionTheatre/
Arcadia direct Ticket Link – https://endellion.tessera.info/tickets/arcadia
Andy Harris/JFYP Studio – http://www.jfyp.co.uk
Andy Harris Blog Page – http://andyharris.uk
The Man of La Mancha (also directed by Jonathan Walker-Kane) – my blog post – http://andyharris.uk/2018/01/19/looking-back-man-of-la-mancha/
All photos copyright Andy Harris 2018 except for the Arcadia poster. Please do not use without permission.